Make a Joyful Noise Unto the Lord!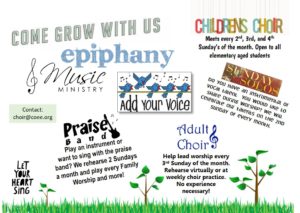 Music in worship is offered as praise to our living God, "to express joy, to offer thanksgiving, to comfort the sorrowful, to give courage to the afflicted, and to unite the faithful". The music ministry at Epiphany has been called to lead worship through music and song! We believe that singing is an integral part of worship and our groups at Epiphany are blessed to lead our hymns and special music.
Our worship groups include the Epiphany Adult Choir, the Epiphany Children's Choir, and the Epiphany Praise Band. All singers are welcome to join the adult choir, which practices on Wednesday nights from 7:30-8:30 and sings at most Sunday services. The children's choir rehearses each Sunday after worship and sings at least once a month during worship (usually family Sunday). The Praise Band rehearses following worship on Sundays and plays at every Family Worship, at Friendship Café lunches, and at other events throughout the year.
The music ministry at Epiphany Episcopal has many opportunities for all musicians! We are always looking for singers and musicians to join our ministry team! If you are interested in more information, please contact Jane at choir@EpiphanyEC.org.