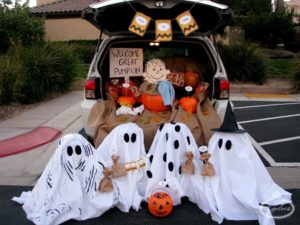 On Saturday, October 28th from 4:00 – 5:30 p.m., Epiphany's Children and Family Ministry team will be hosting a Trunk-or-Treat event in our parking lot. Kids can come and trick-or-treat at the decorated trunks of cars. We will also have a few activities and snacks.
There are several ways in which you can participate.
You can bring your children in costumes to collect treats.
You can register your vehicle and decorate the trunk, tailgate, hatchback, etc.
Or you can donate individually-wrapped candy. There will be a donation box in the Gathering Space.
If you are interested in decorating your vehicle, please submit the registration form. Keep in mind that most of our crowd will be young children, so please keep decorations friendly and not scary. You can pick a theme if you'd like (see examples below): a favorite movie, book, a place (beach, ocean, camp site). Be creative and have fun!! We hope to see you there!
Please contact Dana Hale with any questions: family@epiphanyec.org